[ HOME ] [ AQ/Jaern ] [ Author ] [ MicroEMACS ] [ Telengard ] [ Forums ]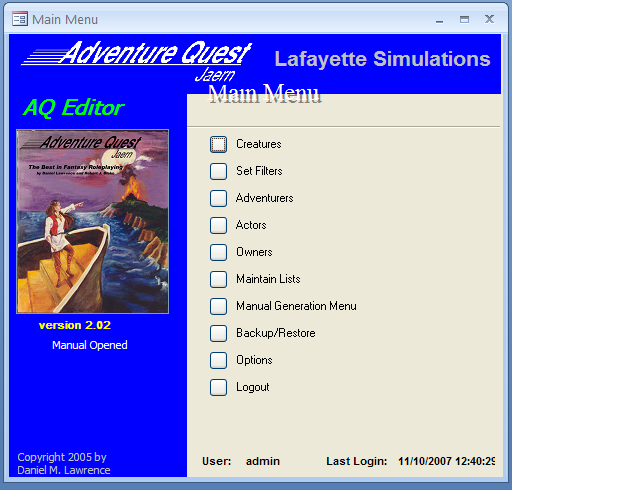 AQEDIT Campaign Editing Utility
AQEDIT is an application that will allow you to track all the information in your Adventure Quest campaign. Adventurers, actors, creatures, magic items, local actor and creature abilities and skills, all these things can be edited and printed for your campaign.
AQEDIT is a Microsoft Access 2003 application which comes preloaded with the data from the Adventure Quest/Jaern manual. It allows you to add new skills, new creatures, and actors specific to your campaign. It also allows you to create and maintain adventurer information for the adventurers in your campaign. This application will continue to be expanded to let you easily track all aspects of your Adventure Quest/Jaern campaign.
Requirements:
You need a Windows XP computer with at least 256 meg of RAM and 15 MEG of free disk space. A printer for printing adventurers and actor records is also useful.
Current Release
This release of AQEDIT is version 2.20. It is the twentieth release available for non-commercial/personal use. You may download and use this version for yourself as long as it is not used to make a profit. It is a BETA release, and as such is still in testing. Documentation and help text will be added in upcoming releases. All the features for tracking a campaign are functional and included. New functionality going beyond this will be added as new versions are prepared. Future enhancements include the automatic generation of towns, cities and a whole world of actors and magic on the fly. Some of the steps leading to this exist in the current release, including the automatic generation of Actors according to several different sets of parameters. I very much welcome comments on and error reports about the current BETA release.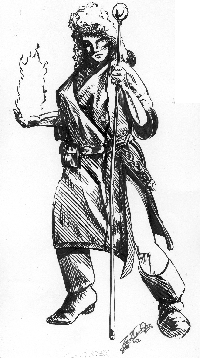 Installation:
Installing AQEDIT is very simple. Download it to a folder on your computer using the button below. Open that folder. Double-click on the program icon, or create a shortcut to it on your desktop. That's it.
Upgrades:
When a new version is ready for you to download, enter your existing version of AQEDIT. Go to the Backup/Restore menu and use the backup option to back all your data up to an external file. Download the new version, copying it to the folder where the old version resided. Run the new version and use the restore option on the Backup/Restore menu to pull your data into the new version of AQEDIT.
Feedback:
Try it out. Then go to the AQEDIT forum within the Adventure Quest forums and tell me what you think... What was easy to use, what is missing, what seem cumbersome. I know what I would need in software to keep track of my campaign, I need to know what YOU need!
Download

Press this button to download AQEDIT for your personal/non-commercial use.